Welcome!
Probate is not something we likely encounter, or plan to encounter in our lifetime. I understand that the process may be somewhat overwhelming at first, especially considering the circumstances. Not only are you in the process of grieving, yet now you're asked to take on the responsibilities of managing the estate. Being a Realtor #1 as well as a hospice nurse, I understand that grief is something to respect, and I also understand that each person grieves differently. Being said, I feel called to assist those in need when they're ready.
Specializing in Probate, and licensed over 13 plus years, I am qualified to assist you with listing and the sale of your real property. My goal is to get you the best price possible for the home-as to benefit the overall estate. Please feel free to email/Text/Call for a "free home evaluation" on your property! Or you can simply search (in private) on my probate site http://www.probateestateproperty.com by registering and going to tab FOR SELLERS then YOUR NEIGHBORHOOD. Your information will only be shared with me guaranteed.
Upon request, I'm able to provide you with the necessary resources you may need to handle matters of the estate. Such as Professional Cleaning Services, Title Searches, Referrals to Probate Attny., Mortgage Professionals, Auction Houses, Estate Planners, CPA's, Tax Attny., Estate Sales & Liquidation Houses, Hauling, Landscaping, General Contractor's, Handyman, etc.
I have included a estimation of "Probate Timelines" and "Executor Duties" below, here is some of what so you might expect during the probate process. Remember, I am just a phone call away from assisting you in this process. Please do not hesitate to call with questions or concerns.
Probate Timeline: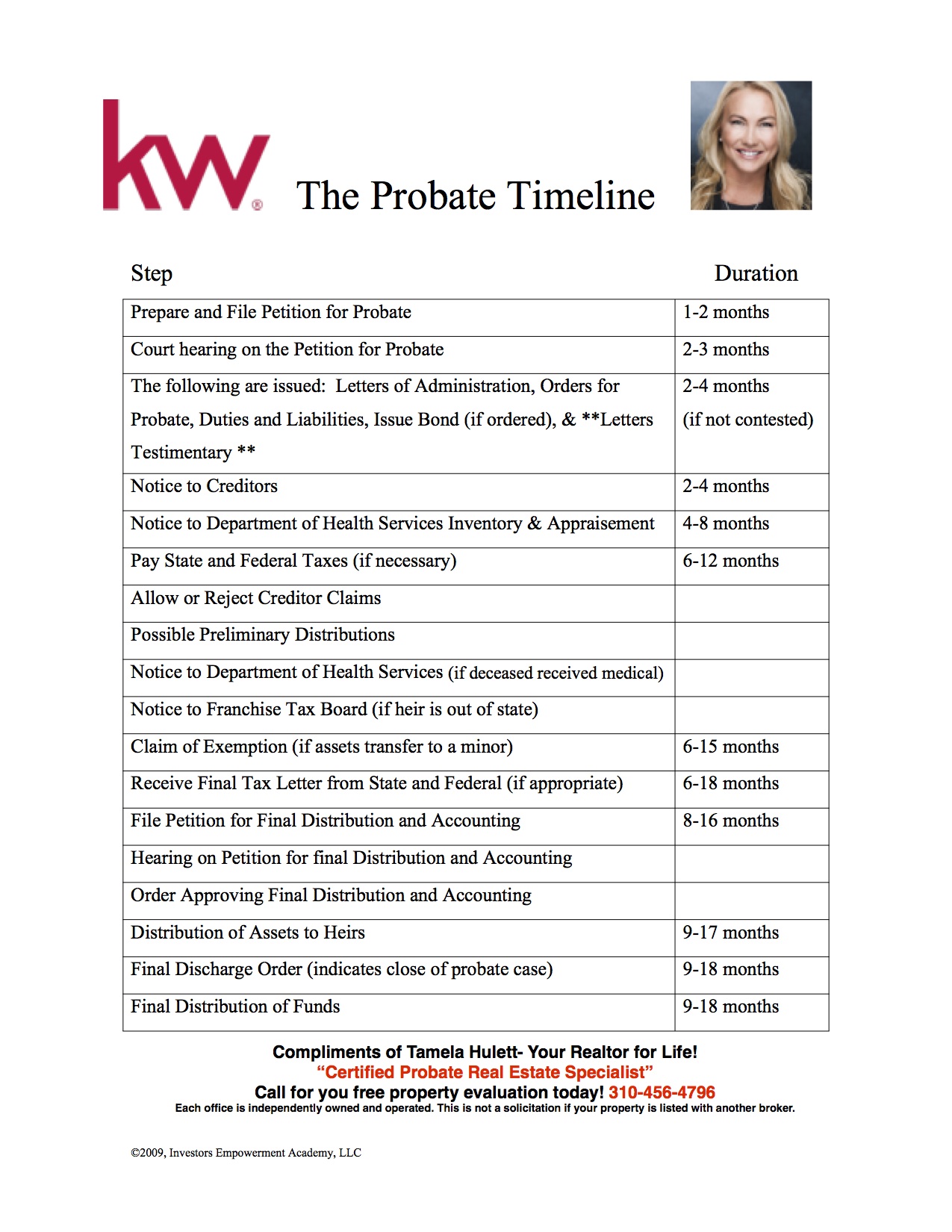 Executor's Duties: